WELCOME TO TOKYO ICHIBAN
The world's number one online store for exclusive Japanese & sexy cards. The largest selection over 1000 different cards from Dragon Ball, One Piece, Naruto, Pokémon, Sailor Moon, Jujutsu Kaisen, Demon Slayer, Yu-Gi-Oh & much more !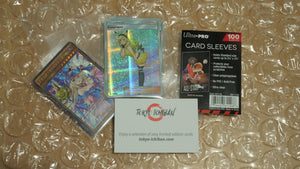 How we secure your order for shipping
Because it's important for you to receive your order safely and fast, we are committed to offer you the best online shopping experience. Discover how we are protecting your cards for shipping to your country.
Read it
Discovering our blog posts
When we think of Dragon Ball, we think of these overpowered heroes, the fierce enemies, the spectacular and epic battles, the various transformations that transcend their power. But there is...
Blog
  Pokémon is a series of video games that began in 1996 on Game Boy. It features a young boy who evolves in a world populated by Pokémon, small monsters...